Make the glass and cup cleaning routine a lot more easier!
The automatic glass washer can easily replace a soap dispenser, kitchen sprayer, or sinkhole cover, it is a perfect complement to a kitchen faucet. It can be easily connected to the water pipe to save your time and energy.
Material: made of selected high-quality ABS and stainless steel materials with anti-rust and anti-corrosion characteristics for a long service life.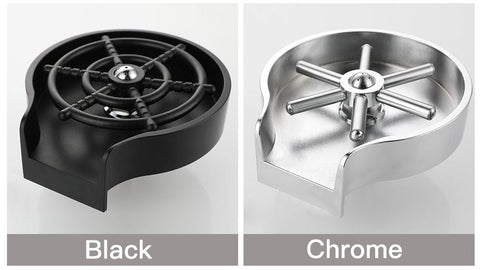 Adopts high-pressure and multi-angle cleaning to simplify your life.The powerful water spray function can thoroughly rinse the residue in a few seconds. The automatic cup washer can be placed next to the coffee machine to facilitate the cleaning of the cup at any time.
Best for washing cups and glasses in bars, cafes, restaurants,homes, tea houses, hotels, etc.Can be used for red wine glasses, beer glasses, coffee cups, milk jugs, beverage cups, teacups, etc.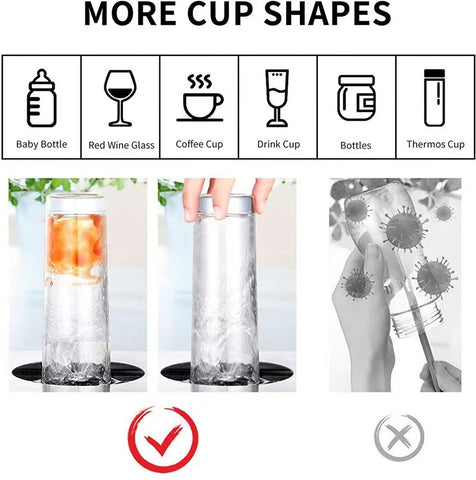 Comes in two variants:
1.Rinser only
2.3 pcs set-rinser,adapter tee and angle valve
How to install:
Step 1: sit the mounting shank in the sink hole, and slide the shank through the rubber and steel washer
Step 2: Before fully tightening the mounting nuts and screws, make sure that the base is aligned with the sink
Step 3: Connect the water pipe to the angle valve. Use a adapter tee provided if no outlet left for a new water pipe. Unthread existing faucet supply line from angle stop on the chosen side. Thread provided tee onto angle stop in place of the supply line that was disconnected in the previous step. When supply line is installed, check the alignment ensure there is no leaking, a wrech may be used.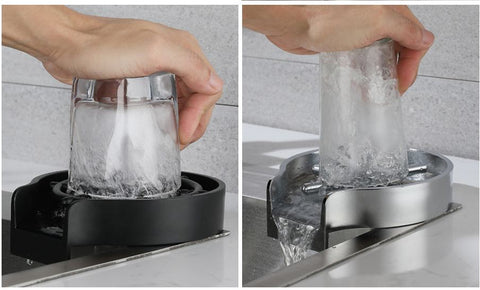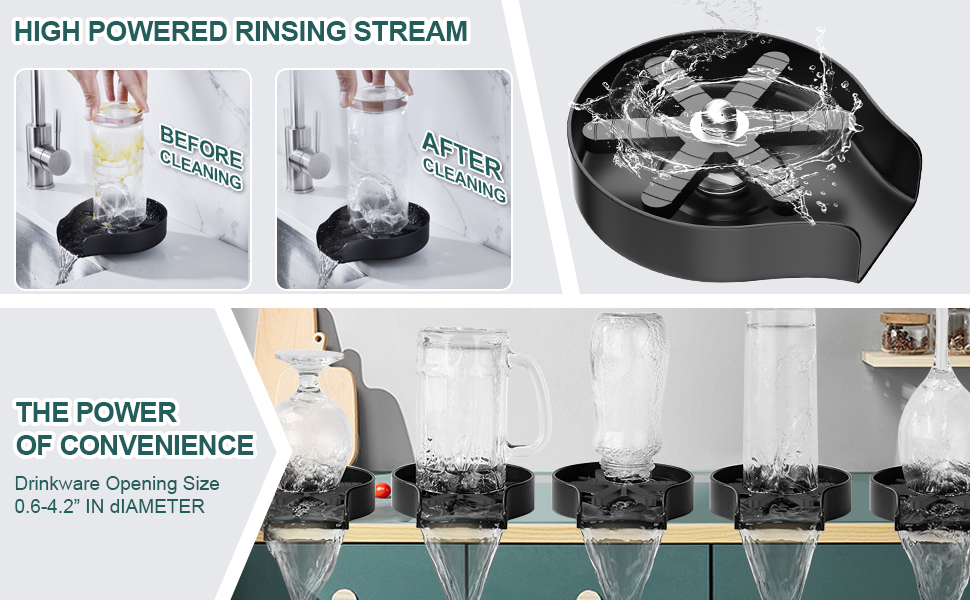 Installation Detailed Steps
Step 1 & 2

1.Base place on the coutertop holes,slide mounting shank through the base

2.Slide the shank through the rubber washer and metal support washer.

Step 3 & 4

4.Link the supply line to the slide mounting shank underside,tighten the angle stop.

Step 5 & 6

5.Thread the 9/16" end of provided supply line to the tee.

6.Thread the faucet supply line to the tee.After supply line is installed, check and retighten the all mounting nut.
PACKAGE INCLUDED:
1 x glass rinser, 1 x 1m braided hose inlet pipe , 1 x 3-way Tee Connector Adapter (3/8" ,1/2" and 1/2").