Do You Have Any of the Following Problems When Cleaning Your Cups?
--Need to clean narrow baby bottles frequently?
--Don't want to hand clean your wine glasses after a party?
--After drinking coffee/tea/juice, the cups residue is rinsed not clean?
The FONTOP Glass Rinser for sink is coming, solve all your worries!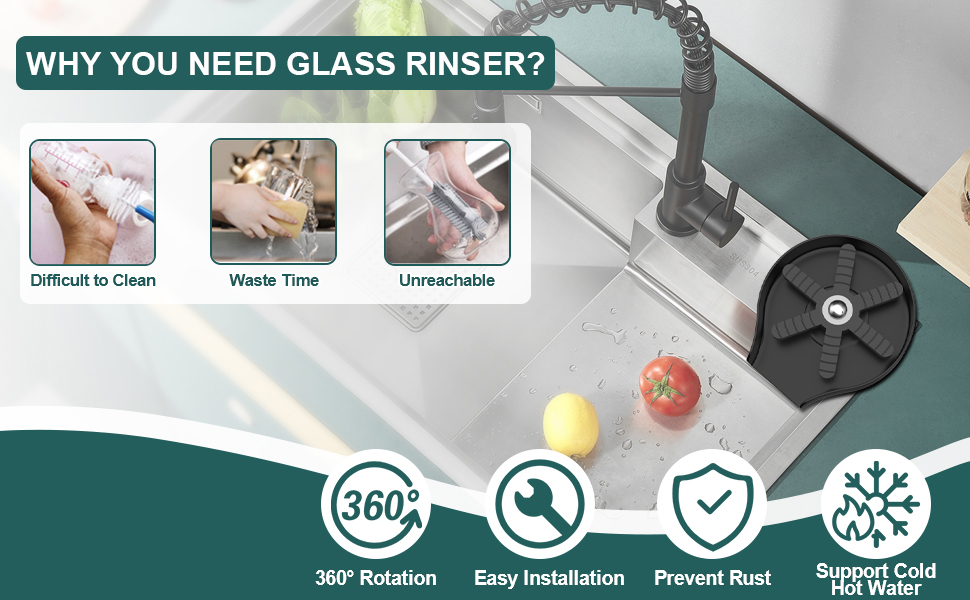 Cup Washer Review Collection
[FUCTION]: When you only have one free hand available , removing milk and formula residue from narrow baby bottles can be difficult.Let this glass rinser remove residue in seconds with one simple push . Also , It is perfect for quickly rinsing your favorite barware , champagne flutes or wine glasses , with each use , the subtle overhang directs water flow into the kitche sink for easy cleanup, It is gentle on delicate drinkware and kitchen helper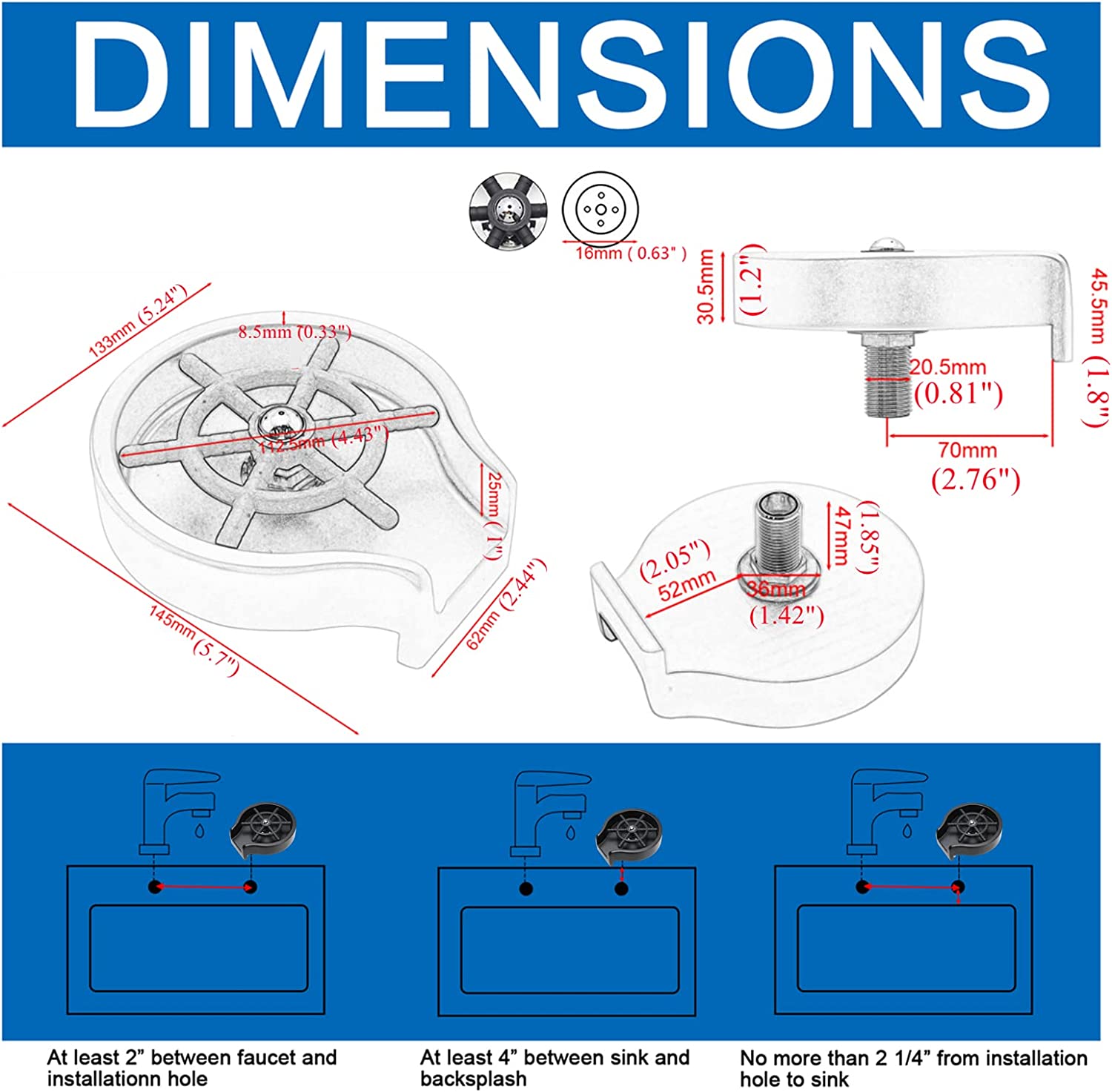 [SIMPLE TO USE]:: Put the glass/cup downwards and press the bottom, the spray water will come out for cleaning. When the cleaning is completed, remove the glass/cup and the spray will stop

[INSTALLATION]: Must have at least 2 inches of space surrounding installation hole and no more than 2.25 inches from center of hole to the sink's edge - ensuring water flow goes into the sink instead of pooling onto your countertop. And has a water supply line.The supplied water supply line can be connected to hot or cold water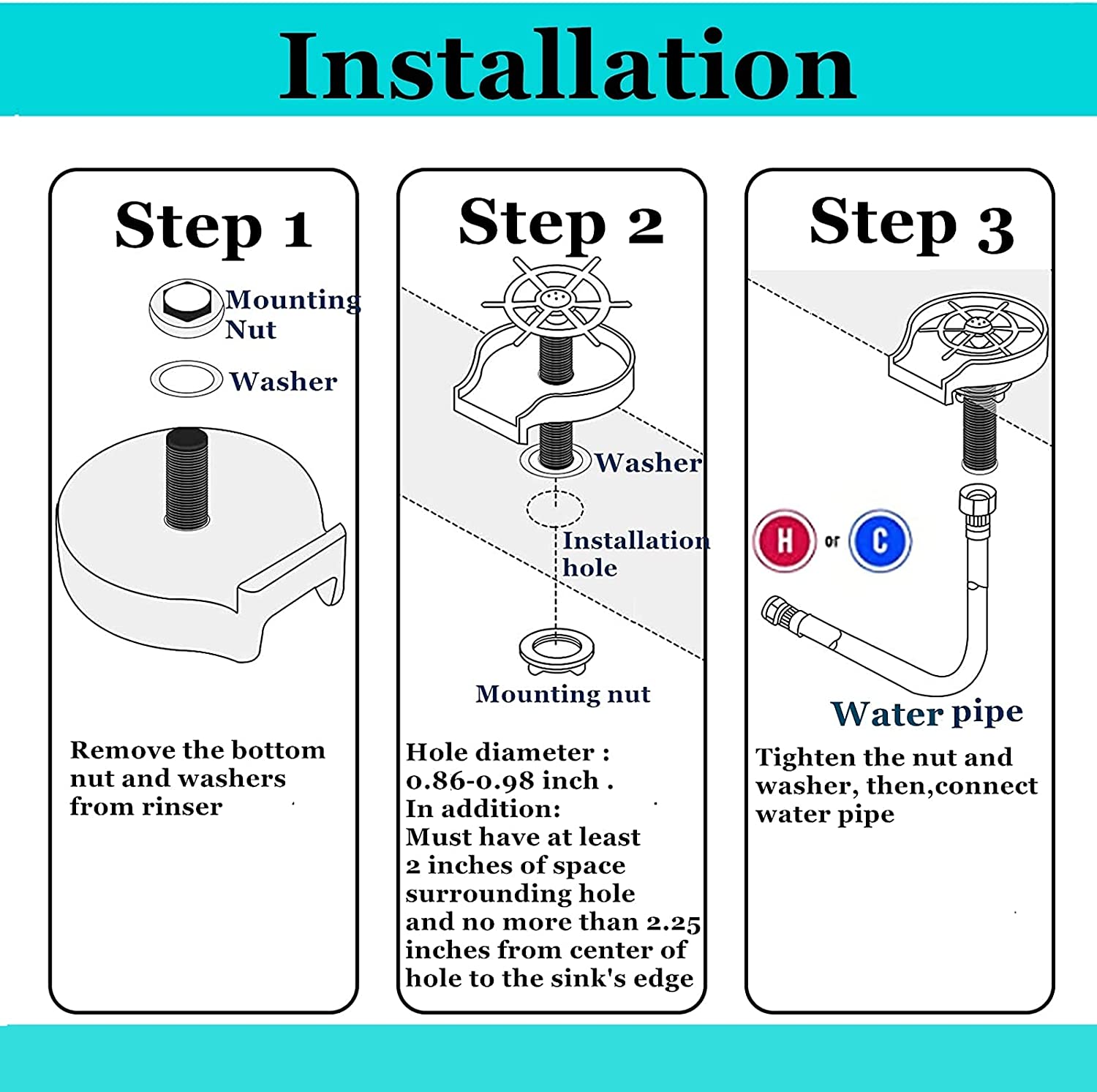 [MATERIAL]: The basin part is made of a whole piece of aluminum alloy by compression molding, the surface is smooth and there are no gaps, and the high-pressure rinser head is made of stainless steel and ABS plastic. The weight of this rinser is about 625g(1.38lb)
Installation Detailed Steps
Step 1 & 2

1.Base place on the coutertop holes,slide mounting shank through the base

2.Slide the shank through the rubber washer and metal support washer.

Step 3 & 4

4.Link the supply line to the slide mounting shank underside,tighten the angle stop.

Step 5 & 6

5.Thread the 9/16" end of provided supply line to the tee.

6.Thread the faucet supply line to the tee.After supply line is installed, check and retighten the all mounting nut.
PACKAGE INCLUDED:
1 x glass rinser, 1 x 1m braided hose inlet pipe , 1 x 3-way Tee Connector Adapter (3/8" ,1/2" and 1/2").