MAKE YOUR FRUITS AND VEGETABLES FREE FROM PESTICIDES AND OTHER NASTIES!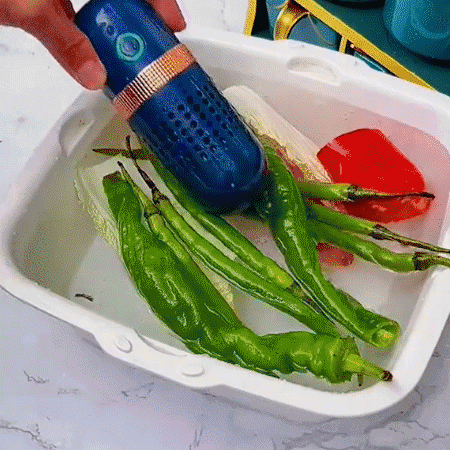 Naturally Eliminates Pesticides & Backteria
There are more than 1,000 pesticides that are used on food worldwide. Pesticides are potentially toxic to humans and may cause adverse health effects such as cancer, reproductive problems, and harm to the immune system and nervous system.
The Vegetable Washing Machine effectively removes pesticide residues on the surface of vegetables and fruits
WIDE AND EFFICIENT PURIFICATION
The fruit and vegetable cleaner can purify fruits and vegetables, aquatic products, meat, tableware, grains, kitchen utensils, glasses and jewelry. Suitable for all kinds of containers. Can purify more than most of residual harmful ingredient and prolong the storage time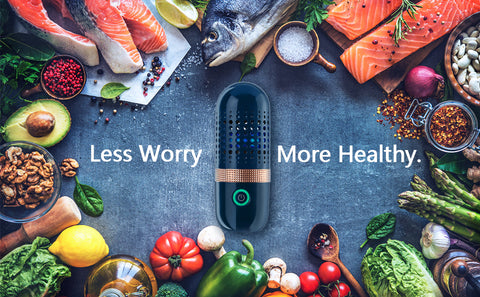 BACKED BY SCIENCE
The Vegetable Washing Machine uses Hydroxy Water Ion Purification Technology. It uses water as raw material to achieve high-efficiency purification in three steps:
1.Electrolysis (water is decomposed into OH- and H+ under the action of electrolytic material) 2.Degradation (OH- will destroy chemical molecule of residual and cell walls, make it becomes harmless) 3.Deep Purification (OH- and Cl combine into HClO, will deeply degrade residues and harmful ingredient)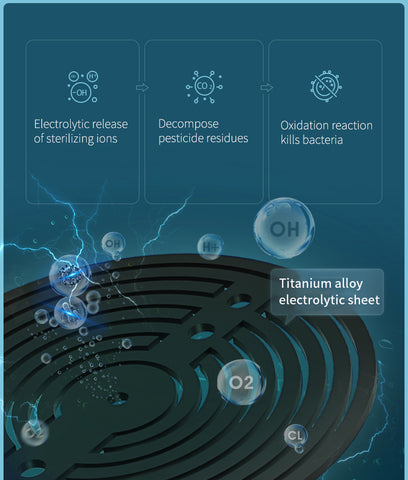 SAVING TIME AND EFFORT
Spend more time with family, or doing your favorite activities. The Vegetable Washing Machine is very easy to clean and use. Just press the switch to turn the fruit and vegetable washing machine on. The food cleaner can quickly clean food in 10mins, and allow you to enjoy healthy fruits and vegetables. The top cover can be removed for deep cleaning after each use.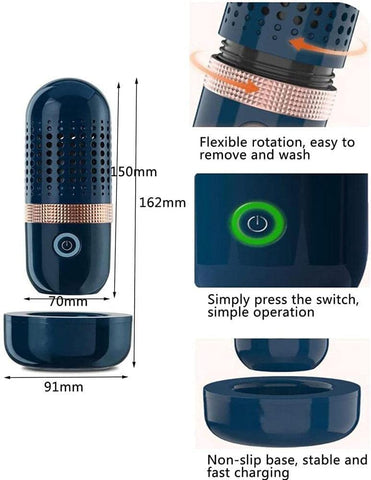 WIRELESS AND PORTABLE
Built-in 3000mAh high-capacity rechargeable battery, the fruit and vegetable purifier can be used for 25 times when fully charged. The fruit and veggie cleaner device is easy to carry, and can be used widely in many scenarios: In your Kitchen at home or when Traveling Outdoors, Picnics, and Camping. Fit inside your Kitchen sink, Vegetable basket, and small Zip bags.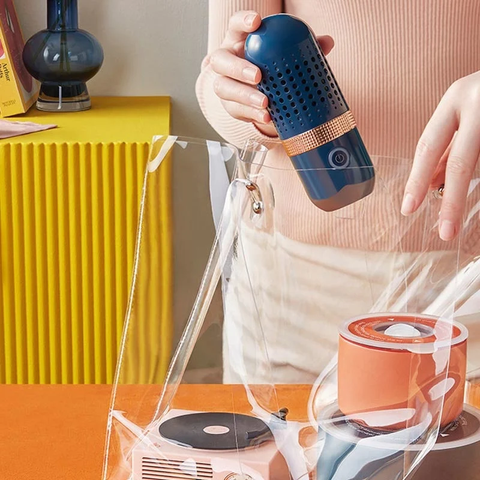 SAFER AND MADE FROM HIGH QUALITY
The purifier machine has a waterproof rating of IPX 7 with no water leakage, safe to use. Can be used with Tap water, Filtered water, and other Different Water Quality. No direct contact with strong electricity, safe and stable. There is no noise and interference during use. Small and portable, Suitable for outdoor travel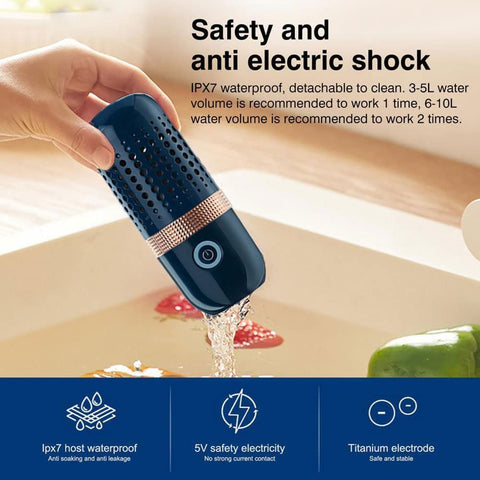 SPECIFICATIONS:
Size: 91*91*160mm/3.58x3.58x6.29inch (with base)
Battery: built-in 3000mAh.

Work Time: about 10min(3-5L water)

Power: 5V/8W.

Work time: up to 25 times.
PACKAGE INCLUDES:
1 X Vegetable Fruit Washing Machine
1 X Charging Base
1 X Instruction