Now it's time for you to flip the egg roll! Leave the rest to the pan's capable hands.
Wavy Bottom
The wave-like design of the pan's bottom makes flipping your egg rolls a breeze. Easily and quickly roll up anything you desire. Plus, when using this pan to sear other foods, it leaves behind beautiful cooking marks, adding a touch of culinary artistry to your dishes.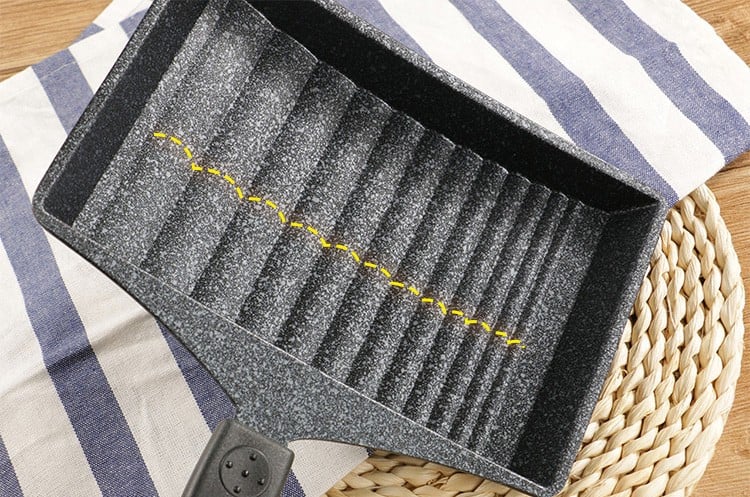 Master the Art of Perfectly Rolled Eggs
The curved bottom of our pan allows for seamless swirling and even distribution of your egg mixture. Whether you're a seasoned chef or a kitchen newbie, you'll achieve picture-perfect rolled eggs every time.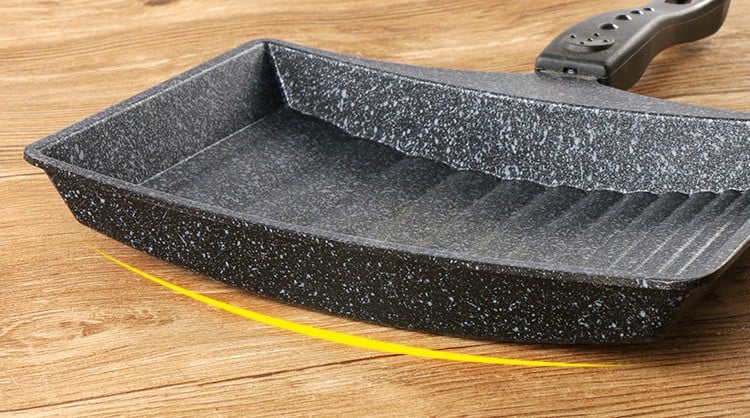 A Handle with Style and Safety
The imitation woodgrain handle adds a touch of elegance and charm to your cooking experience. Plus, it stays cool to the touch, so you can flip, roll, and shake with confidence!

Built to Last, Cooked to Perfection
The combination of maifanite stone and aluminum alloy ensures excellent heat conduction and durability, providing you with reliable performance for years to come.

Nonstick Coating
Our Wave Bottom Egg Rolling Pan features a surface made of maifanite stone, known for its excellent heat conduction properties and durability. The inner layer consists of an aluminum alloy core, which ensures even heat distribution for consistent cooking results.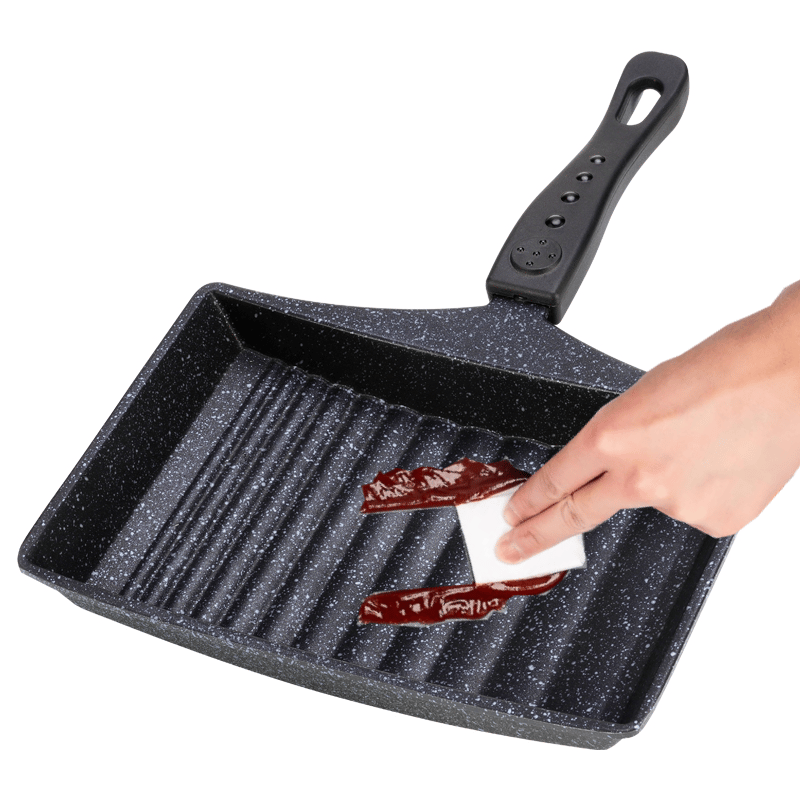 Versatile Cooking
It's not just about rolled eggs! From omelets to crepes, grilled sandwiches to stir-fries, this pan does it all. Get creative and explore a world of culinary delights with this multifunctional kitchen essential.

Important Notes
Do not use steel wool or abrasive cleaning tools, as they may damage the nonstick coating. Instead, use a soft sponge or cloth for cleaning.
This pan is not dishwasher safe. Hand wash with warm water and mild dish soap is recommended for cleaning.
This pan is not suitable for use in the oven or microwave.
Please ensure to follow these guidelines to maintain the quality and longevity of your Wave Bottom Egg Rolling Pan.
Product Specifications
Material: Maifanite stone surface with an aluminum alloy core
Coating: Three-layer nonstick coating, PFOA-free and non-toxic
Handle Material: bakelite handle
Compatibility: Suitable for gas stoves,Electric ceramic stove, cassette stove
Cleaning: Easy to clean; hand wash recommended for prolonged durability
Usage: Ideal for making rolled eggs (tamagoyaki) and versatile for cooking pancakes, crepes, omelets, and more