This egg frying pan uses a four-hole design, which is perfect for cooking omelets, bacon, burgers, pancakes, etc. It can make cooking faster and easier, and save your time and energy for breakfast.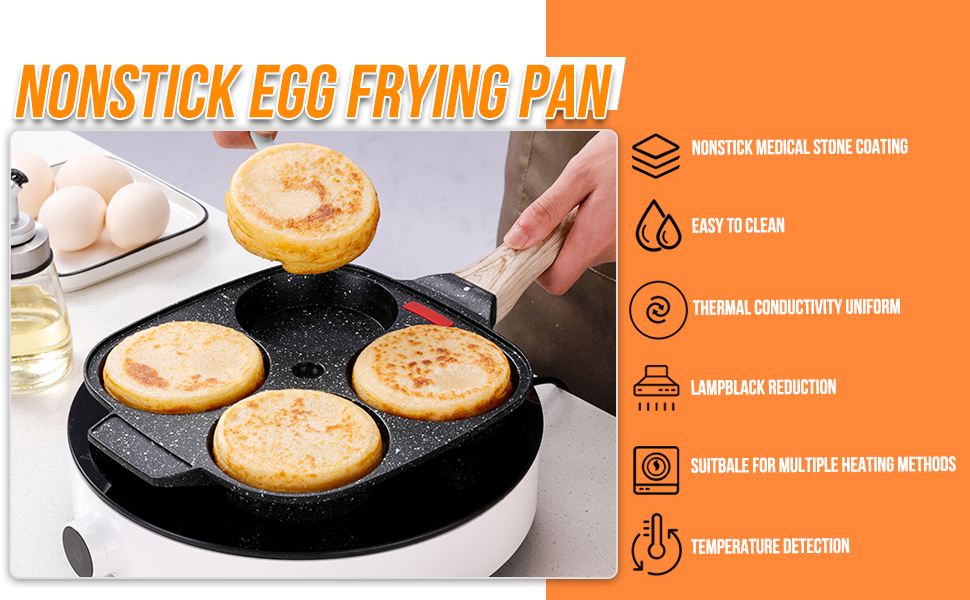 Features:
NONSTICK & EASY CLEANING: The fried egg pan has nonstick marble stone coating which is harmless and non-stick, very easy to clean with water after cooking. Just use a soft sponge or cloth to remove oil stains easily.
PREMIUM MATERIAL: The fried egg pan is made of

high quality aluminum,

which can provide exceptional heat retention and distribution than traditional cast iron pan.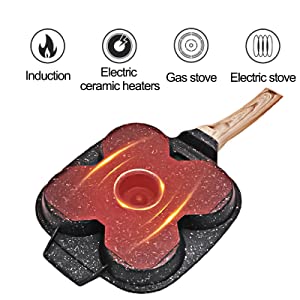 SCOPE OF APPLICATION: The nonstick egg frying pan is suitable for all types of hobs, it's compatible with both gas stoves and induction cookers.
Easily to get egg burgers
SPECIFICATION
Shape: Square

Approx dimension: As pictures

Weight with packaging: 3.15 lb

Material: High quality aluminum alloy

Coating: Nonstick medical stone coating (PFOA free)

Handle: Soft bakelite handle
Package include:
NOTES
In order to protect the coating, please use sponge or soft scouring pad to clean, try not to use a brush.

Due to thermal expansion and contraction, the silicone strip may fall off during transportation. You can install it by yourself after receiving the goods.

It is recommended to use a low fire for cooking, but not a high fire to avoid damage to the coating. It is not advisable to overheat the pot when it is empty.

Please minimize exposure to acidic foods and corrosive cleaning agents.

In case of stubborn stains, please soak in hot water and detergent for a period of time before washing.

When you receive the product, you need to assemble it simply.