🍎🍈🍆Add A Fruity Twist To Your Meals!🍌🥝🥕
Want to try your hand at culinary art? Take your first step using the Fruit Spiral Knife! This easy-to-use kitchen tool puts a fun, creative spin to healthy meals by cutting fruits and vegetables into unique spiraling coils.
It features sharp circular blades to easily cut and leaves little waste. The removable, ergonomic handle gives you a comfortable grip that makes twisting and cutting a breeze. Made from rust-resistant stainless steel, it's guaranteed to last you even with daily use.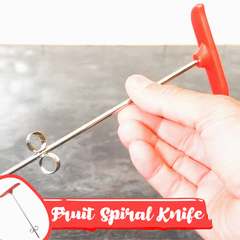 HIGHLIGHTS:
Tasty Spirals - Cuts fruits into spiraling coils to artfully spruce up healthy meals.
Special Blades - Equipped with sharp circular blades that easily cut with little waste.
Widely Usable - Cuts various fruits and veggies such as potato, cucumber, carrot, banana, apple, and more.
Ergonomic Handle - Provides a comfortable grip for effortless twisting. Easily removable and locks securely.
Superior Material - Made from rust-resistant stainless steel that's guaranteed to last even with intensive daily use.
Easy to Use - Remove the handle and pierce the stick through the fruit or veggie up to the blades. Return the handle and start twisting!
Technical Specifications:
Product Includes: 1 x Fruit Spiral Knife
Size:16cm * 7cm
🎁💐 Don't forget to get some for your family and friends as it's an unique gift idea.