Ever Wish there was a Safe & Efficient Way to Clean Your Grill?
Cleaning your grill can be tough, especially when you choose a safe bristle free grill brush!
An ordinary safe grill brush without SCRAPER or with a too short scraper takes a lot of effort and failed to get your grill clean, that's why this new-design grill brush exists.
Those Less Than Stellar BBQ Grill Brush Without Scraper Days Are Gone!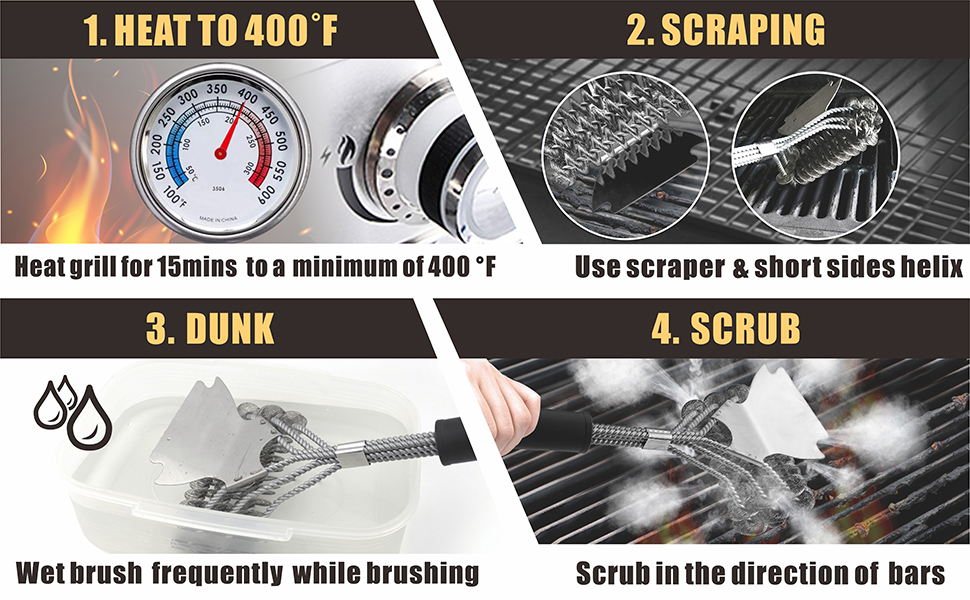 Its hard-wired stainless steel mesh cuts through the toughest residue, its sharpest scraper easily scrub out any stubborn residue without scratching your grill.
Features & Benefits
-Stainless Steel Hard-Wired Bristle-Free
-18" Tough, Weather Resistant Handle
-3 Brushes In 1 with Scraper Design
-Stiff Rigid Construction, Yet Light-Weight
-3 Year "No Hassle" Service
Enjoy Clean Healthy Eating

Please follow the latest instructions below for the best cleaning result:
1. Preheat the grill for 15 minutes
2. Use the scraper to gently scrape off the stubborn stains on the grill
3. Dip the brush frequently in water while brushing the hot grill
4. Use the 2 shorter sides' helix to clean edges and dislodge debris between grates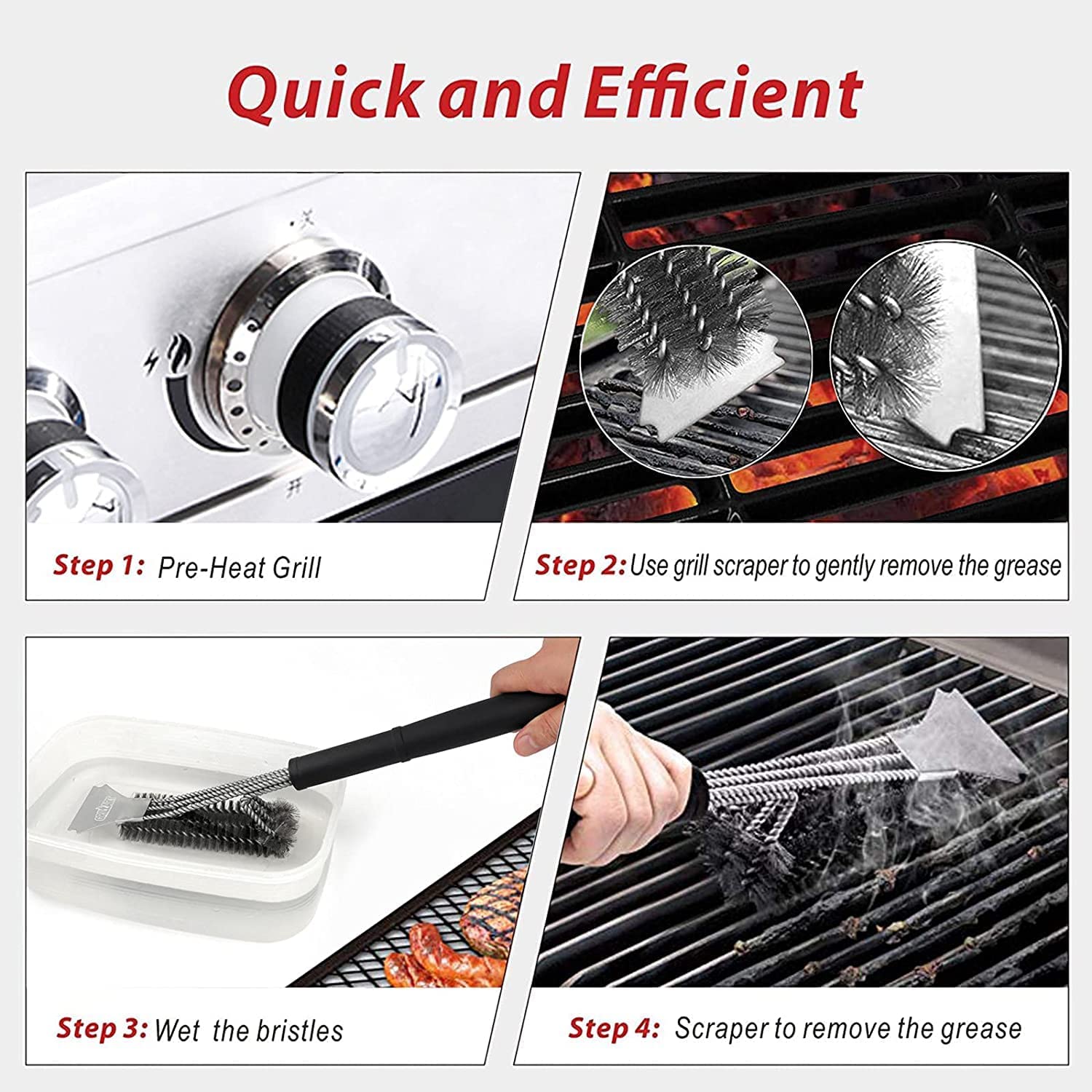 【The Safest Bristle Free Grill Cleaner】:No wire bristles at all, no melting like nylon grill brushes; With this safe grill brush and scraper, your food will stay 100% Bristle Free. No more worry about swallowing some metal pieces, Let's free to gobble up some favorite barbecue!
【The Faster Cleaning with a Wide Scraper】: You'll be surprised by the efficiency of a grill scraper. You may Strong scrape and clean more areas in less time. This grill cleaning brush build in a Wider scraper.
【Upgraded for All Grill Types】: 125% more flexible upgraded helix can easily reach and clean the Hard-to-Clean sides of grates, not just the front.
【Built to Last】: 120% more rigid triple helix than other safe grill brush bristle free, ensuring its feature of Durable and Long Lasting. 18inch tough plastic handle with a better grip, protects your hands from burning and ensures it will not bend or snap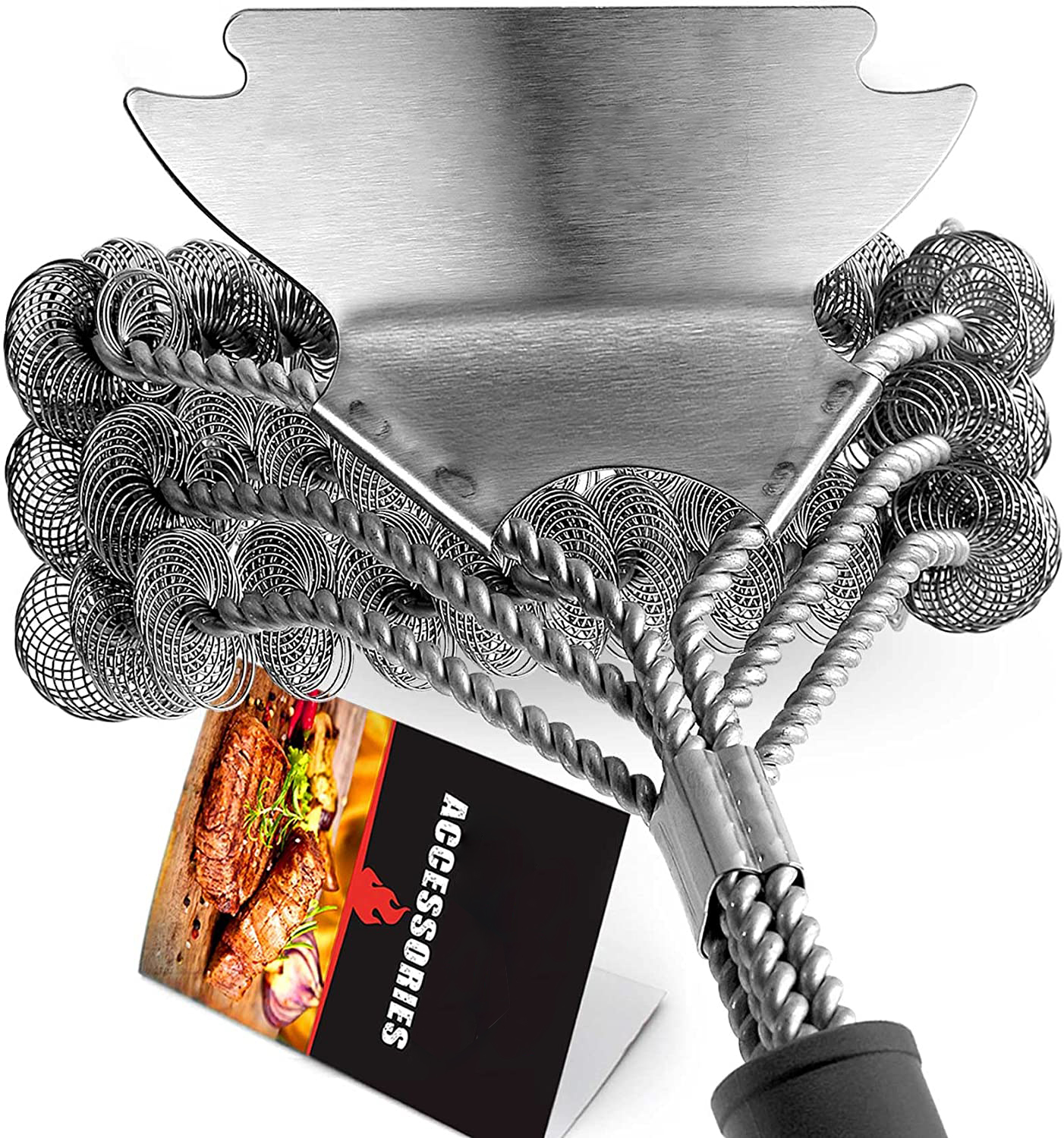 PACKAGE INCLUDE: