If you are looking for a simple kitchen tool that can keep your countertop drip-free, then this Heat-Resistant Utensil Rest is the best choice for you!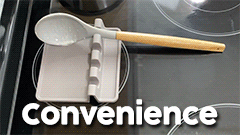 This simple kitchen utensil holder lets you easily organize spatulas, tongs, ladles, and cutlery in one place while cooking. Its special feature is the integrated base with a raised edge that can prevent water, sauces & oil stains from flowing to the countertop. Keep your kitchen organized & drip-free as always!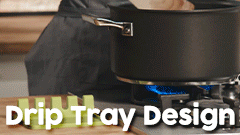 It can be easily cleaned in a dishwasher or with water. This ultra-flexible utensil holder has a minimalist design & a wide range of colors, which gives it a modern vibe & will match with different kitchens.
Make Kitchen Clean-up Faster & Easier!
Grab Yours Now!
FEATURES:
Essential Kitchen Tool
This is a must-have product to rest spoons, spatulas, tongs, ladles, and pan lids when baking or cooking. It can also keep your utensils close at hand, which is very convenient.
Drip-free Kitchen
It has an integrated base with a raised ridge to keep drips from staining your kitchen counters and tiles. It helps you keep the countertops clean and organized. No more extra clean-up.
Functional Design
Made of premium quality anti-slip silicone to make it stay in place. It is heat-resistant, BPA-free, durable & flexible. There are 4 slots that can hold multiple utensils of different sizes at the same time.
Easy To Clean
The silicone material makes it easy to clean with water or a simple wipe. It is also dishwasher-safe.
SPECIFICATIONS:
Size: 14.5 x 13 cm
Material: PP + Silicone
Color: Green/Black/Gray/Pink/Blue/Purple/Red/Orange
PACKAGE INCLUDES:
1 x Heat-Resistant Utensil Rest