Whether you are camping or simply working on projects, this high-quality multifunctional camping utensil set is entirely constructed of stainless steel for long-lasting durability. The handle is made from aluminum, it is easy to clear and totally rust-free.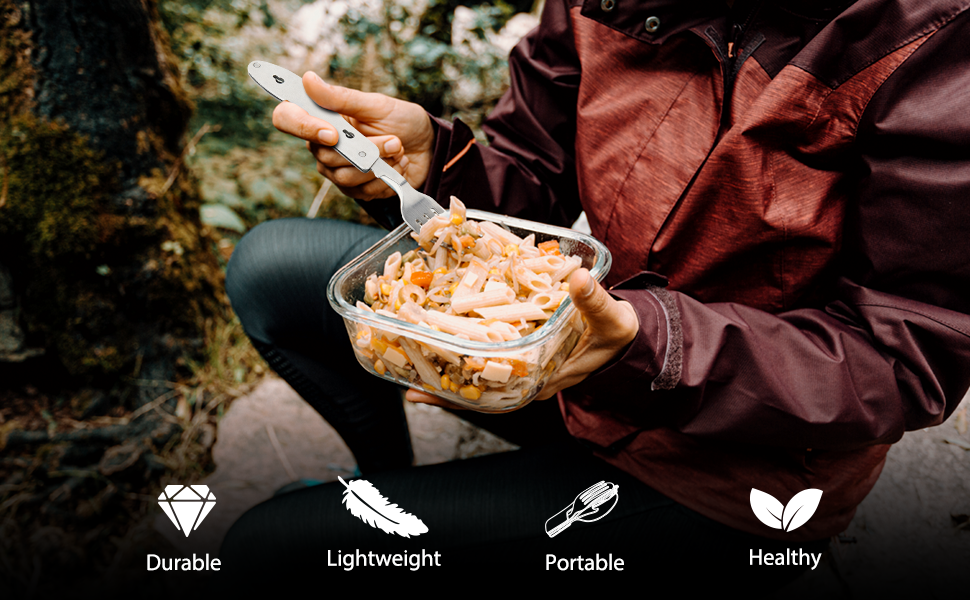 ✓4-𝐈𝐍-1 𝐂𝐀𝐌𝐏𝐈𝐍𝐆 𝐔𝐓𝐄𝐍𝐒𝐈𝐋 𝐈𝐍 𝐘𝐎𝐔𝐑 𝐏𝐎𝐂𝐊𝐄𝐓: Looking for a light, compact but fully portable camping utensils? You just found it! Equipped with a detachable fork, spoon, knife and bottle opener set, our camping cutlery set is easy to store in your pocket or pack so you'll always be prepared - the perfect companion on the go.
✓𝐏𝐄𝐑𝐅𝐄𝐂𝐓 𝐅𝐎𝐑 𝐂𝐀𝐌𝐏𝐈𝐍𝐆, 𝐓𝐑𝐀𝐕𝐄𝐋 & 𝐇𝐎𝐌𝐄: Save space and weight in your pack with this 5 oz camping flatware. Measured at a pocket size( 1.6*4.2"), it comes with a nylon pouch so that you can bring it when go camping, backpacking, car travel, hiking, fishing, picnic, BBQ or even in the office. Just unfold your camping eating utensils and enjoy your delicious meal with your family.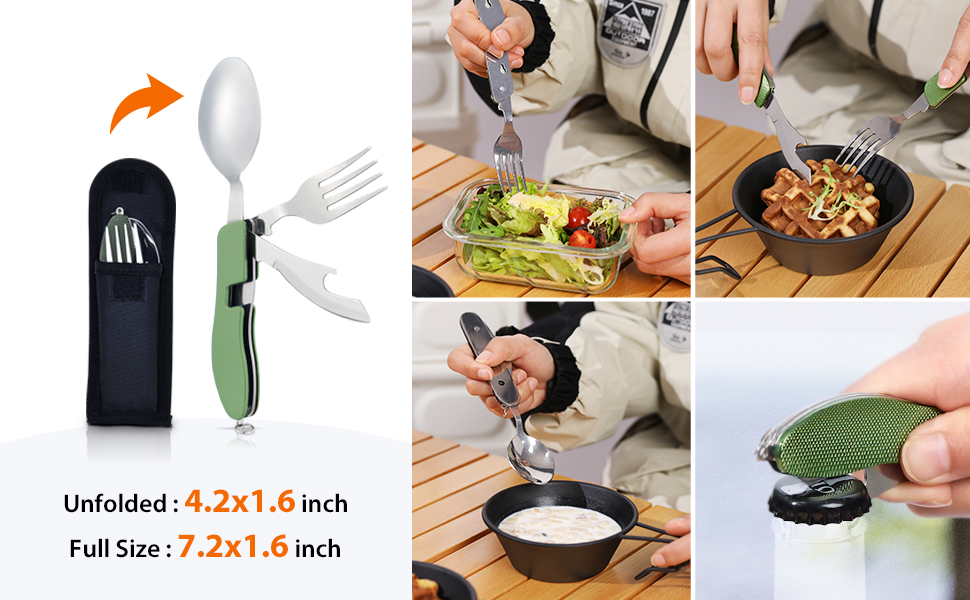 ✓𝐄𝐍𝐉𝐎𝐘 𝐌𝐄𝐀𝐋𝐒 𝐈𝐍 𝐖𝐈𝐋𝐃𝐄𝐑𝐍𝐄𝐒𝐒 𝐇𝐄𝐀𝐋𝐓𝐇𝐈𝐋𝐘: Tired of plastic? Say goodbye to disposable utensils and hello to Hikenture stainless steel camping utensil set. Rust-proof, strong, and reusable, our camping spoon fork knife combo is made of high quality stainless steel and safe for you and mother earth.
✓𝐀 𝐌𝐔𝐒𝐓 𝐇𝐀𝐕𝐄 𝐅𝐔𝐋𝐋-𝐒𝐈𝐙𝐄𝐃 𝐔𝐓𝐄𝐍𝐒𝐈𝐋: Our premium camping silverware upgraded with polished coating to prevent rust and stick. Separates for the use of the knife and fork at the same time, perfect solution for students, scouts or travelers eating with flimsy plastic cutlery.
✓𝐁𝐑𝐀𝐍𝐃 𝐐𝐔𝐀𝐋𝐈𝐓𝐘 & 𝐋𝐈𝐅𝐄 𝐓𝐈𝐌𝐄 𝐖𝐀𝐑𝐑𝐀𝐍𝐓𝐘: Being confident about the top quality of our camping fort and spoon knife set, we accompany this backpacking utensils with a 100% satisfaction money back guarantee, so your shopping will be worry-free.