amaze your friends with new, restaurant-like recipes. Add strong new flavours with freshly zested ingredients without any bitter pith taste.
SHARP, QUICK AND EASY Razor-sharp, stainless steel blades can grate and zest with complete precision and ease. Molded, non-slip handle provides a comfortable grip and exceptional control for perfect lemon, lime, and orange zests or delicious mounds of grated cheese. Upgrade your kitchen with this versatile tool.
GRATES BEAUTIFULLY The sharp blades grate and zest without ripping or tearing up your food making your dishes look, smell and taste amazing. Designed to utilize less pressure when zesting or grating soft and hard foods, making all your prepping, cooking and baking fast and easy.
GET YOUR GRATE ON You can grate or zest nutmeg, chocolate, ginger, parmesan cheese, gouda cheese, oranges, Meyer lemons, limes, key limes, grapefruit, hazelnuts, coconut, cashews and more. Works as well as a nutmeg grinder, cheese shredder or parmesan cheese grater.
STYLIZE AND IMPROVE ANY DISH Even the hardest of cheeses will bend to your will with this amazing grater. Zesting oranges, lemons and limes alike is now easier than ever. It will finely rasp almost anything, including nutmeg, coconut, ginger, vegetables like carrots, garlic or potatoes making all your dishes look and taste amazing.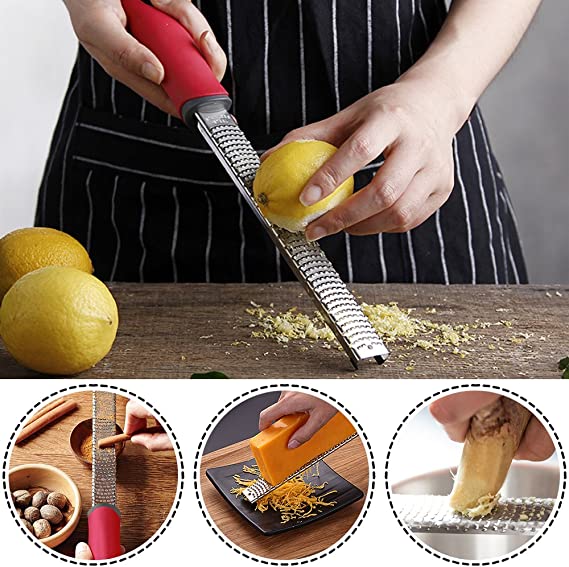 More Zest with Less Effort – Universal Tool that Makes Life Easy and Fun!
High-quality stainless steel that won't rust
Non-Slip Soft Handle for Easy Gripping
Razor Sharp, Safe and Durable Edges
Plastic Protective Cover for Safety Storage and Easy Hand-Washing
Easy to Clean & Dishwasher Safe
Compare our food grade 304 Stainless Steel with Microplane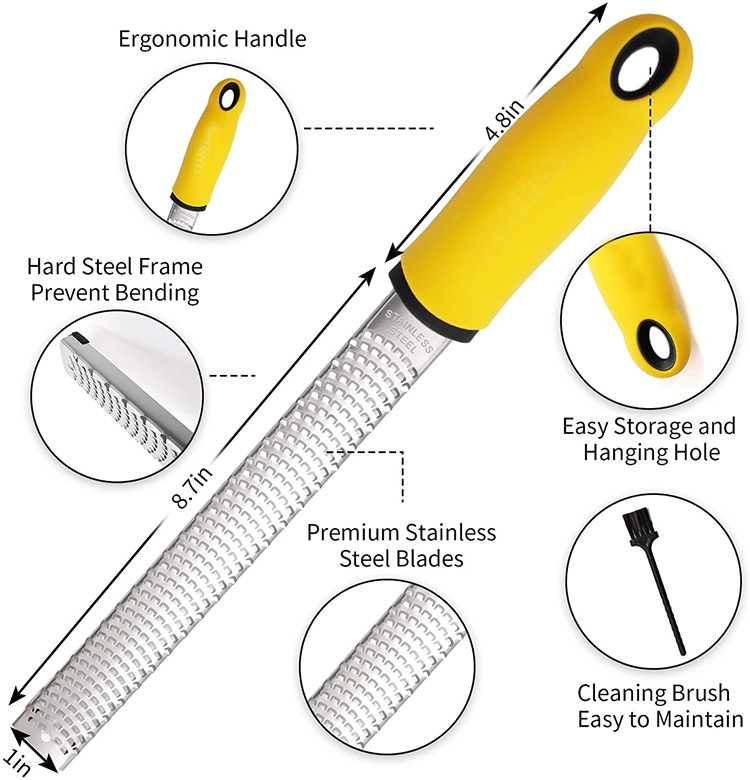 Perfect Zest Curls in Seconds!
Unlike an old fashioned hand grater the Cheese Grater gives you zest in seconds without touching the pith!
Discover great tastes in famous dishes by adding freshly grated spice like ginger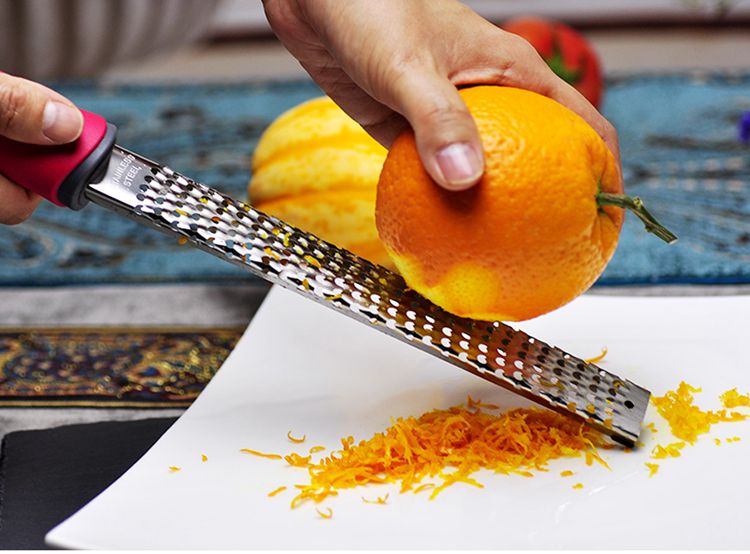 Works Perfectly On:
Lemons
Oranges
Limes
Grapefruit
Nutmeg
Ginger
Garlic
Parmesan, pecorino, Romano, aged gouda, and other hard cheese
Chocolate
Hazelnuts, cashews and other nuts
Coconut
Product Details