One Year Warranty Included

Achieve quick, even results on electric, gas, or ceramic cooktops with Kitchen Groups Nonstick Fry Pan Skillet Multipurpose Cookware Use for Home Kitchen. Safe for use on all cookware - easier to clean than traditional nonstick. Clean-up is a snap since the surface wipes clean rather than needing to be scrubbed, the chance of scratching the surface is minimized.
Features:
Classic look and professional: performance Long, ergonomic handles provide a secure grip even with full, heavy stainless steel fry pans, stay cool even when the pan is hot, and are double-riveted by hand. The flat, wide bottom and sloping sides, and durable nonstick finish heat evenly, makes flipping easy and releases food cleanly, making it perfect for eggs, omelets, and other delicate foods.
Honeycomb Nonstick: No chemical coating, The principle of water vapor self-separation nonstick is adopted, and under the separation effect of the honeycomb protective layer, the contact area between the food and the pot surface is reduced, and the gas suspension effect is formed, achieve the self-separating nonstick. ★ So, first coat with oil, heat, and cooking. ★
7-layers construction: Suitable for all cooktops including induction Oven safe; PFOA, lead, cadmium, & heavy metal free coating; Longer lasting than typical non-stick; dishwasher safe.

Specifications:
Material: Stainless Steel
Diameter: 26cm/10.23 inch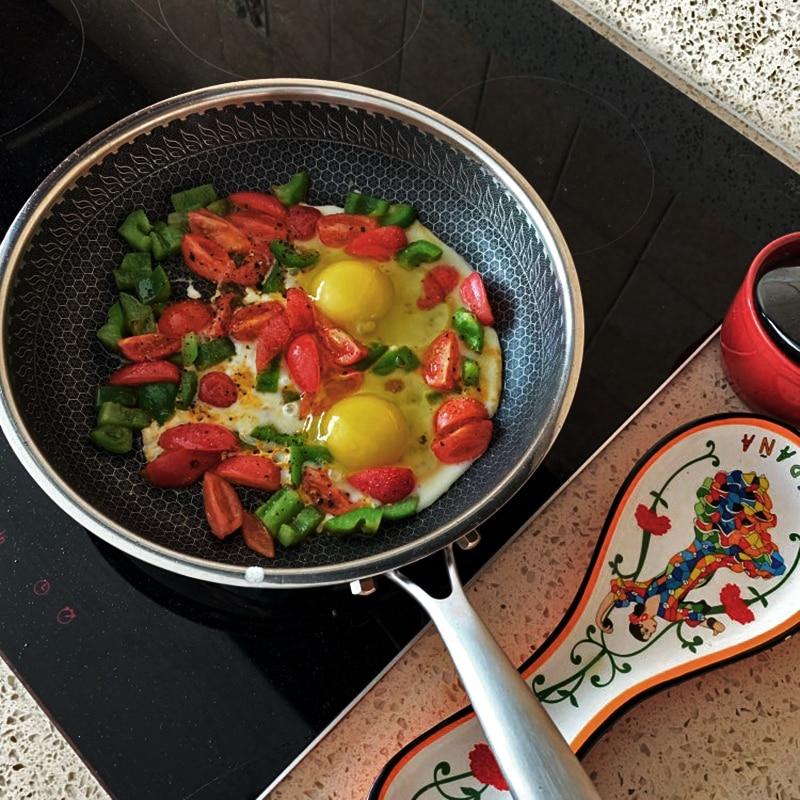 Package Includes:
1* Nonstick Fry Pan Skillet Multipurpose Cookware Use for Home Kitchen 
*Please allow 10-21 business days for the item to arrive
Click "Add to Cart" To Claim Yours!