Nobody ever seen a knife sharpener like this before. Get your knives back to Samurai sharp!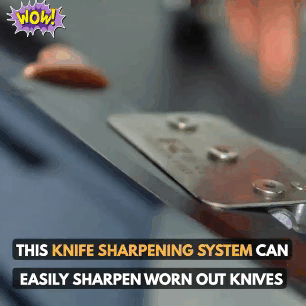 The Pro Knife Sharpener is a great addition to every (semi) professional kitchen, hunting, fishing or outdoor equipment. It has the best sharpening rod to keep all your knives razor sharp.
Features:

PREMIUM QUALITY: We don't compromise on quality! The Pro Knife Sharpener is an all metal sharpener (except that the stones are mounted on a plastic base), so no plastic parts in this one. This automatically means a luxurious appearance and a more durable and long lasting use of the sharpener.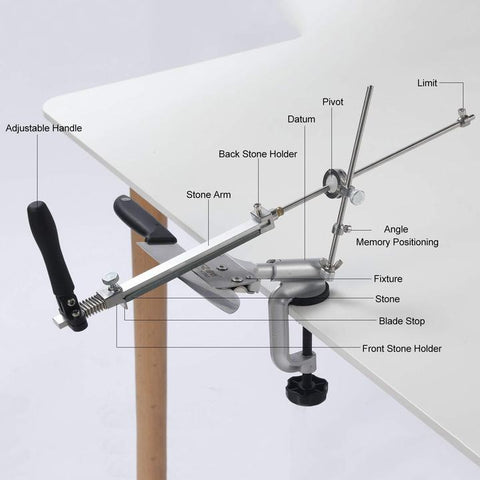 MULTIPURPOSE USE: The Pro Knife Sharpener is suitable for sharpening many types of blades. You can think of kitchen knives, hunting knives, woodworking knives, pocket knives, planer tools, scissors, razors and more!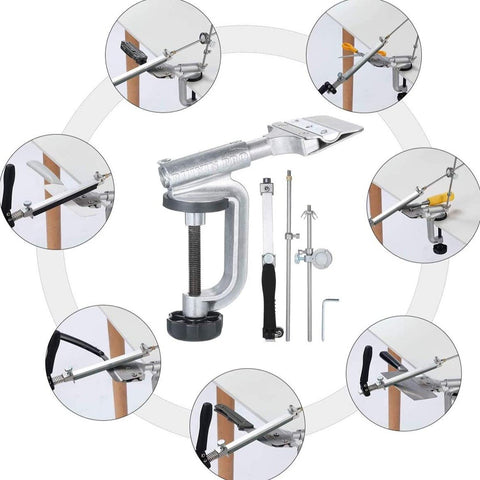 EASY TO USE: The Pro Knife Sharpener comes with 8 whetstones and is very easy to assemble. You can simply tighten the screws by hand, so no need to use a screwdriver. It's designed with an adjust system for accurately setting the grinding angle. The sharpener stone uses water for sharpening, so you don't need to buy any expensive sharpening oils. Cheaper and above all no mess.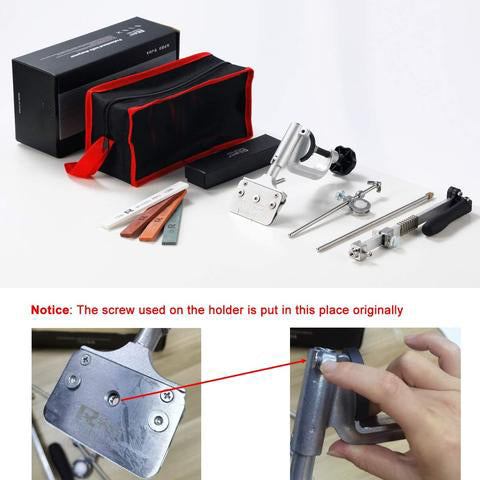 ALSO FOR BEGINNERS: It may take a little time to learn and adjust the sharpening for yourself, so you better start with sharpening some cheap knives before you start using you chef's knife.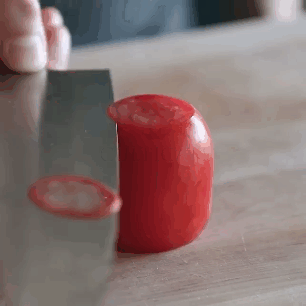 SAFETY: Of course we thought about the importance of safety when dealing with sharpening tools. That's why we constructed the Pro Knife Sharpener with a special safety design. The handle is on top of the knife, so you can never hurt your hand while moving the stone to sharpen your knife.
Package Includes:
1 * Knife sharpener Bracket
8 * Sharpening stone (120#, 320#, 600#, 1500#,Extra 4 stones in random)
We work effortlessly to create and test a variety of knives in order to bring you the ultimate kitchen tools on the market. On top of that, we also have some of the best tools to help you sharpen your blades and ensure they will not be dull at all for years to come.

Our multipurpose blade sharpener is working with a variety of blade types, so it can be suitable for kitchen knives, but also pocket and woodworking knives, razors and many others.

We are very passionate about knives and we are always innovating and using the latest technologies in the industry to deliver outstanding knives to our clients.

We are focused on knife excellence and outstanding quality. Give our products a try today and we guarantee you will be happy with the results!