Roasted Chicken Drumsticks Holder🍗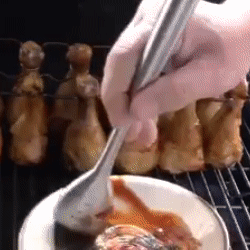 The chicken leg rack from guarantees you an unforgettable chicken experience. Simply hang the chicken legs in the chicken frame and place in the oven or on the BBQ. All legs are cooked evenly on all sides until crispy and brown. The juices simply drip off and can be used as a sauce.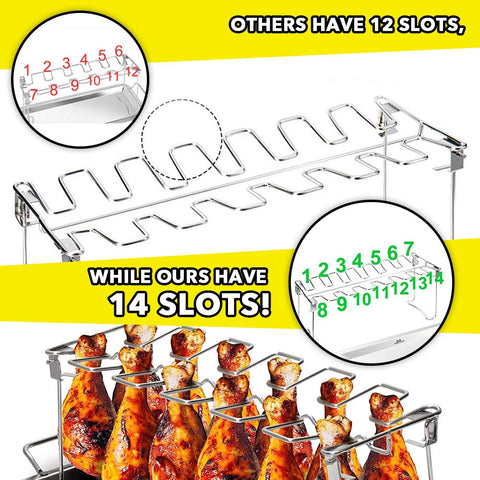 🍗 14 SLOTS. The gap is perfect size and the slots were tapered then it could hold any size of chicken drumstick.
🍗 FOLDING STAND. The rack could fold up and fits inside the pan for very economical storage if you take it for your barbecue party.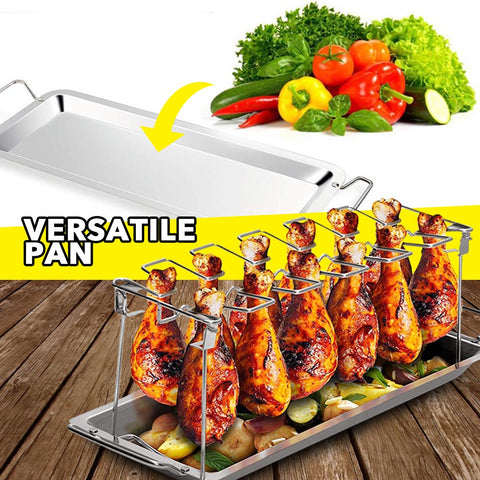 🍗 VERSATILE PAN. The pan not only keeps the juices from dripping on the coals or heat deflector in the smoker but also cooks vegetables in bbq juices.
🍗 HIGH QUALITY STAINLESS STEEL. Non-chemical, non-toxic, dishwasher safe, easy to clean in warm water by hands and patted dry to prevent water spot mark.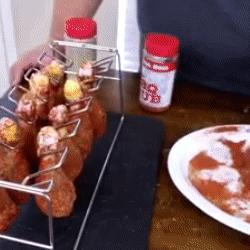 Especially because of the elegant packaging and modern design, this rack makes the perfect gift for every BBQ enthusiast. The BBQ rack is an eye-catcher at every barbecue party and will ensure a special grilling experience.
🍗Features:
Large Capacity Chicken Rack for Chicken Legs, Wings, Thighs or Drumstick.
Use Your BBQ Wing Rack On The Grill, Smoker, or Even Cooking Your Wings In The Oven.
Sturdy Stainless Steel Rack Legs Have a Locking Mechanism So They Won't Tip Over or Collapse When Cooking.
Cook Vegetables Below The Pan With Deliciously Flavored Chicken Juices.
Collect Chicken Drippings To Make Your Favorite Sauce, Gravy or Soup.
Extra Deep Drip Pan So Your Juices Will Never Overflo.
🍗Specifications:
Product Name:Roasted Chicken Drumsticks Holder
Material: Iron / Stainless steel
Size: Stainless steel chicken leg rack: 35 * 11* 14.2cm Tray: 38.5 * 16.5cm
Size:
Package Included:
1 x Chicken Wings & Legs Rack,
1 x Tray
SHIPPING
We will be very grateful for your patience and understanding because we will strive to meet the needs while ensuring that each piece meets our high-quality standards.