How many times you have injured yourself while using a blunt knife?
Studies have shown that people who use blunt knives are more likely to injure their fingers. The reason for this is that blunt knives require more pressure for cutting, increasing the risk of finger injuries.
Knives lose their sharpness after long-term usage, making your life a lot more difficult, especially when you need them for chopping or cooking. Renew the life of your knives and tools with knife sharpener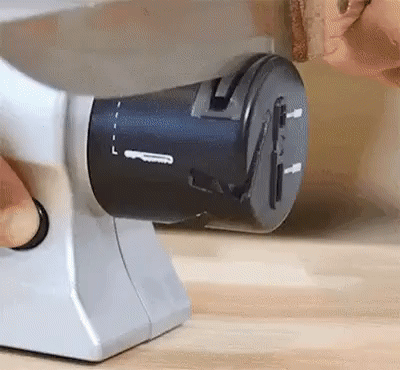 ✓ Easy to use: Sharpen your knife quickly by simply placing it on the high-speed rotating sharpening stone. high-quality build makes it very durable for long-term use. As well as due to its cordless design, the assembly of knife sharpener is super easy. Just put in the batteries and your device is ready to do some real sharpening!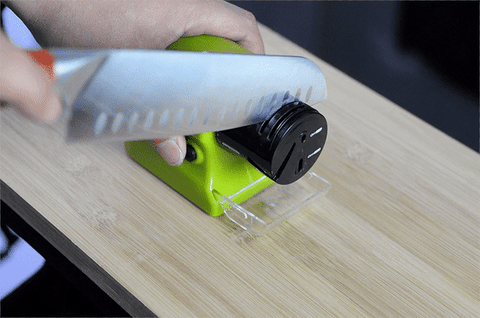 ✓ Universal Use: you can sharpen all kinds of knives (like chef knives, filet knives, carving knives), scissors, cleavers, precision tools, and much more!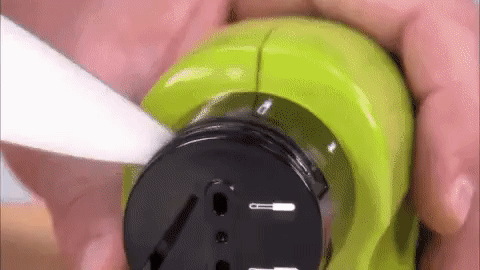 ✓ Safe and Reusable: Silicon pads are installed on the base to prevent slipping when the device is in use. comes with a metal catch tray underneath which collects all the metal shavings of the knives. You just need to take out the tray, throw away the metal shavings, and the device is back to normal.
✓ Compact design: With its stylish and compact design, easy to store anywhere.
one-stop solution for all of your blunt household tools. Own yours now and we promise that you will never have to say goodbye to your favourite knives ever!
Specification:
Product Type: Electronic Knife Sharpener
Metal Type: Stainless Steel
Powered by: 4 AA Batteries
Batteries: Not Included in the package
Colour: Green
Size: 14x6x8.5cm