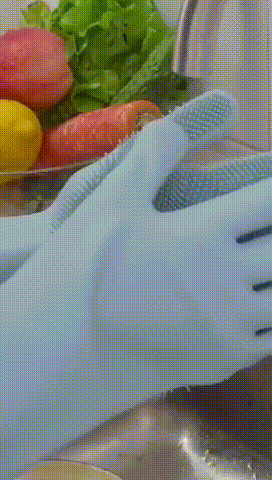 DESCRIPTION
Magic Silicone Gloves Cleaning Dishwashing Scrubber Dish Washing Sponge Rubber Silicone Gloves For Kitchen Cleaning Tools Home
FEATURES
EFFICIENT CLEANING: your hands no longer need to be occupied with a sponge. Just simply put the magic silicone gloves on, rinse with water, apply soap, and simply scrub & clean with just your hands.
SCRUBBING POWER: equipped with hundreds of scrubbing bristles to effectively remove stubborn greases, oils, and dirts.
MULTI USE: works extremely well to scrub and clean dirts away from plates, cups, cutlery, carpets, floors, sinks, shower tubs, toilets, tables, cabinets, pet hairs, and just about anything else.
COMFORTABLE: using a free handed motion makes it much easier to clean in harder to reach spots, and the silicone dishwashing gloves.
DURABLE & ECO-FRIENDLY: this silicone gloves with wash scrubber is made with heat resistant silicone. Great for cleaning kitchen, dish washing or cleaning the car.
SPECIFICATIONS
Usage:

Cleaning Gloves

Weight:

100-140g

Outer Material:

Rubber

Material:

Smooth Lining Latex

Thickness:

Medium

function 1:

Cleaning Gloves

function 2:

Dishwashing Gloves

function 3:

Silicone Rubber

function 4:

Kitchen Clean Tools